Yealink T58A IP Phone with Camera (SIP-T58A CAM)
Buy Yealink T58A IP Phone with Camera (SIP-T58A CAM) from Brightsource Ltd.
The SIP-T58A CAM is a simple-to-use smart business phone that provides an enriched HD audio and video calling experience for business professionals. This smart business phone enables productivity-enhancing visual communication with the ease of a standard phone.
Yealink SIP-T58A CAM Key Features
7 inch (1024 x 600) capacitive adjustable touch screen
720p30 HD video
Runs Android 5.1.1
Yealink Noise Proof Technology
Yealink's SDK (Software Development Kit)
DoorPhone Features (Preview, One-button Open, Monitoring)
Built-in Bluetooth 4.2 for headsets and pairing mobile devices
Built-in 2.4G/5G Wi-Fi (802.11a/b/g/n/ac)
USB 2.0 port (2.0 compliant) for USB headset, media and storage applications
Opus Codec support
Up to 16 VoIP accounts
Up to 3-party video conferencing
Up to 5-party video/audio mixed conferencing
Wall mountable
Colour-screen Expansion Module support
Only the firmware version 58.83.0.15 or later are supported
Based on Android 5.1.1 operating system, the SIP-T58A with Camera features a seven-inch adjustable multi-point touch screen, a removable two-megapixel HD camera CAM50, integrated Wi-Fi and Bluetooth 4.2, and it is coupled with a built-in web browser, calendar, recorder and more, which also support the installation of third-party applications for business customisation. Thanks to the DECT technology, if you want to expand your horizons for busy environments, or, share one phone system with your small team by adding multiple handsets, simply turn your phone to the corded-cordless phone, and it will repay you up to 4 DECT handsets in total to meet your daily demands. The Yealink SIP-T58A with Camera Smart Business Phone strikes an exquisite balance between simplicity and sophistication, offering an all-in-one communications solution for today's busy executives, managers and teleworkers.
HD Audio and HD Video
The Yealink SIP-T58A with Camera includes the latest version of Yealink Optimal HD Voice technologies, including the Yealink Noise Proof Technology and now supports the Opus codec, which helps maximise the acoustic performance of the phone's handset, headset and especially the speakerphone. And its hearing aid compatible (HAC) handset helps the person who is with hearing loss to hear the voice more clearly. The dynamic, removable two-megapixel HD camera CAM50 is specially designed for remarkable real-time face-to-face conversations. Morever, you can use the T58A with Camera IP phone with Yealink VC Desktop together to share content from your laptop.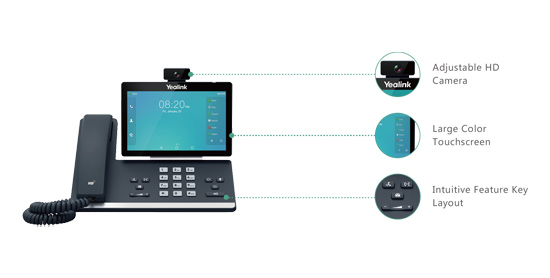 A Better User Experience with Android Operating System
Based on Android 5.1.1, the Yealink SIP-T58A with Camera features a built-in browser, email, calendar and more. Administrators can easily install additional Android applications to improve collaboration and productivity. Meanwhile, the Open Yealink's SDK (Software Development Kit) allows the phone deeply integrate with 3rd-party applications, providing richer phone features and giving a better user experience.

Richer Interface for Easy Customisation
The Yealink SIP-T58A with Camera features Bluetooth 4.2 for pairing with headsets and mobile phones. It also includes dual-port Gigabit Ethernet with PoE as well as built-in Wi-Fi. The USB 2.0 port allows for media and storage via a USB flash drive and a direct wired/wireless USB headset connection. The SIP-T58A with Camera can also be paired with up to 3 Yealink color-screen expansion modules.

Efficient Provisioning and Management
The Yealink SIP-T58A with Camera supports Yealink's efficient Auto-Provisioning mechanism, including phone deployment and application installation. Administrators can take advantage of centralised deployment, management, updating and uninstalling to ensure application standardisation.