UCK-G2-PLUS Ubiquiti Cloud Key Gen2 Plus (UCK-G2-PLUS)
The Ubiquiti UniFi Cloud Key Gen2 Plus is an integrated hardware controller and self-contained application server designed to monitor and manage your UniFi network devices and camera surveillance system. It features an eight-core processor with 3 GB RAM, a 1 TB SATA HDD for video storage, and 32 GB eMMC flash storage, and utilises the latest version of the UniFi Controller with hybrid cloud technology.
Ubiquiti UniFi Cloud Key Gen2 Plus Key Features
Includes UniFi Protect video surveillance software
Includes UniFi SDN network management software
Easy setup with UniFi and UniFi Protect mobile apps
Powered by 802.3af PoE or QC 2.0 USB-C
Built-in battery for automatic safe shutdown
1 TB 2.5″ hard drive included (upgradeable to 5 TB)
User upgradeable 1TB 2.5″ hard drive included
Front panel display for at-a-glance system details
High Performance Cloud Key Gen2 Plus
Featuring SDN Controller, UniFi Protect, 1 TB Storage, Up to 20 cameras, Expansion Support and Bluetooth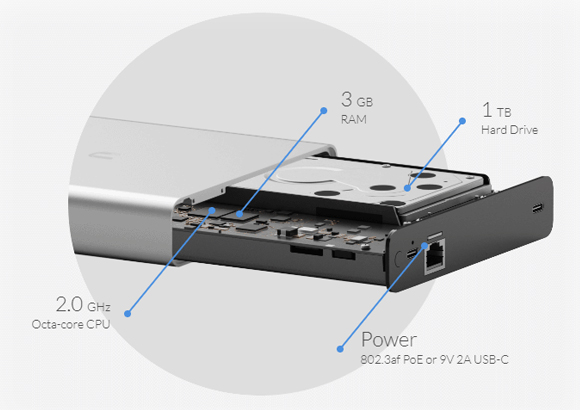 Responsive Controller Experience
4x Faster Performance than the original Cloud Key


Multiple Controllers in Cloud Key Gen2 Plus
Easily scale your security system with up to 20 cameras and up to 50 UniFi Devices. Store your data in the Cloud Key, not the cloud, for maximum security with Easy-to-use UniFi Controller Interface

Versatile Rack-mount Accessory
The Cloud Key G2 and Cloud Key G2 Plus lock securely into the back of the Rack Mount Accessory for a clean and secure installation

UniFi Protect System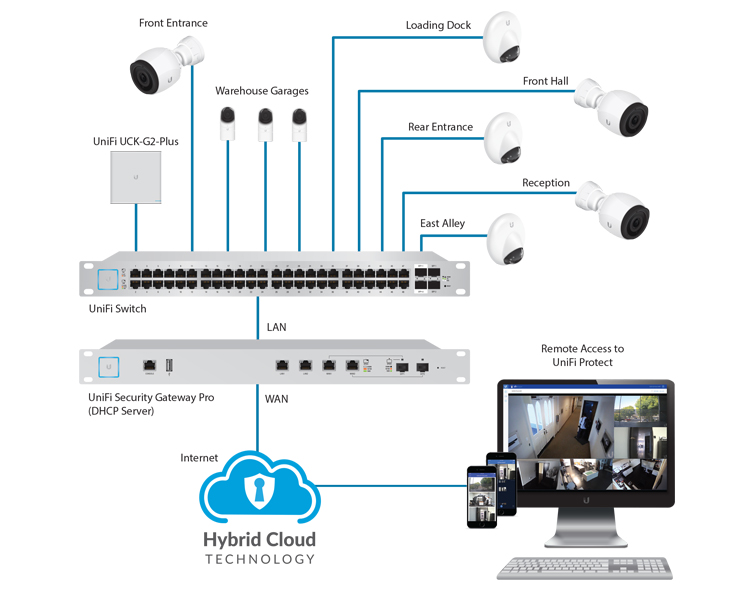 Ubiquiti UniFi CloudKey Gen2 Plus Technical Specification
General
Dimensions: 131.16 x 27.10 x 134.20 mm (5.16 x 1.07 x 5.28″)
Weight: 582 g (1.28 lb)
Enclosure: Anodised Aluminum
Management Interface: UniFi Management Portal; UniFi SDN; UniFi Protect
Hard Drive Capacity: 1 TB 2.5″ SATA HDD (user-upgradeable)
Device Capacity:
– UniFi Protect Mode: Up to 20 G3 Cameras, Up to 10 G4 Cameras
– UniFi SDN + Protect: Up to 15 UniFi Cameras and 50 UniFi Devices, 7 G4 Cameras
Processor: APQ8053 8 Core with 3 GB RAM
eMMC Memory: 32 GB
Networking Interface: 1 x 10/100/1000 Ethernet Port
Buttons: 1 x Power; 1 x Reset
LEDs: 1 x Power, White/Blue
Power Method: Standard 802.3af PoE; Quick Charge 2.0/3.0 Power Adapter (9VDC, 2A)
Supported Voltage Range: Standard 802.3af PoE or 9VDC, 2A
Maximum Power Consumption: 12.95W (PoE); USB-C Power
Operating Temerpature: 0 to 35° C (32 to 95° F)
Operating Humidity: 20 to 80% Noncondensing
Certifications: CE, FCC, IC
What does a UniFi Cloud Key Gen2 Plus do?
How many cameras can a uck G2 plus handle?
What is Ubiquiti cloud key used for?
What is the default password for UCK G2 plus?