Fanvil C400 Gigabit VoIP Phone
Buy Fanvil C400 Gigabit VoIP Phone from Brightsource.
Overview
The Fanvil C400 offers and easy to use and learn user interface to bring a better experience to the user. The C400 offers advanced call features such as intercom/intercom barge, voice recording while talking and a BLF list.
The Fanvil C400 is compatible on most major software platforms including 3CX, Asterisk, Broadsoft, Elastix, Zycoo, etc.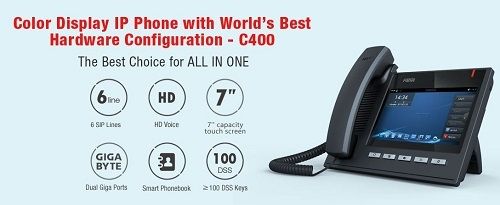 Fanvil C400 Features and Functions:
Android 4.2 OS
HDMI port
Up to 10-way conversation
Dialing via the web/browser
Power Supply Included
Alternatives to Fanvil C400 Android VoIP Phone – DISCONTINUED